A regular Flood of Mishap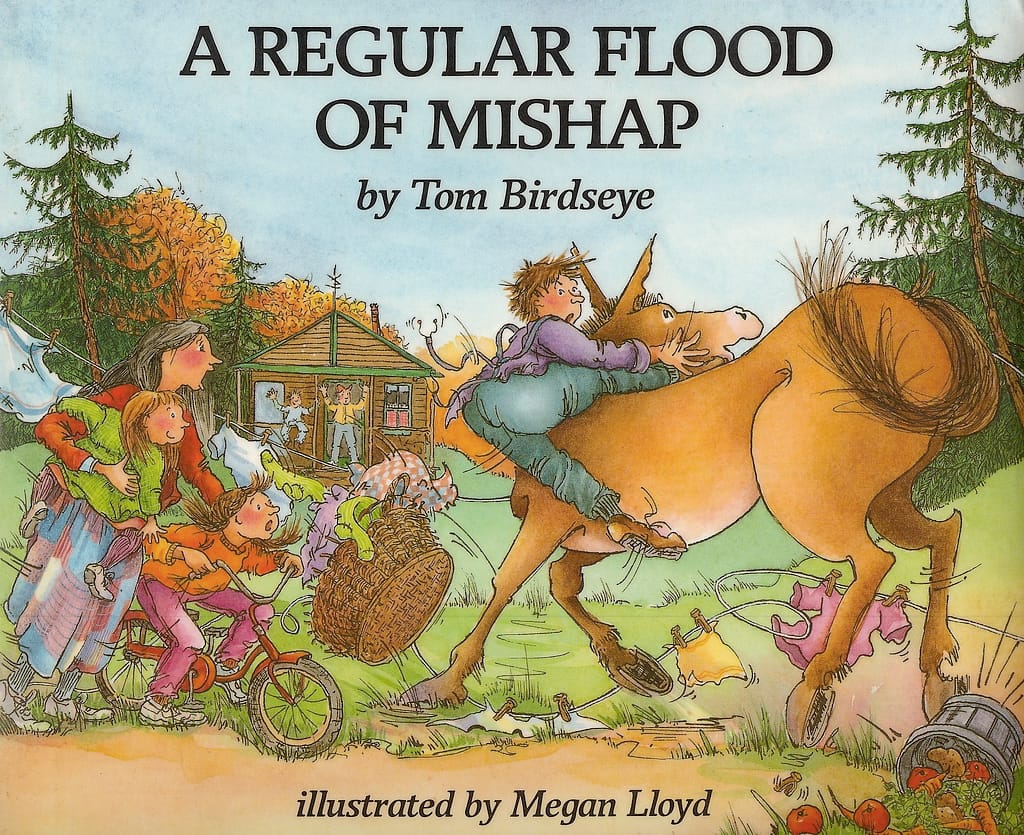 Ima Bean has made a terrible mess! It all starts when she finds Grandpaw Bean's fishing pole propped up on a stone by Mossy-rock Creek. It seems the hook is stuck in something mighty big and heavy in the water, so Ima Bean reels in the line, catches a huge-o-mongous catfish, and accidentally breaks the fishing pole in two.
She's only trying to help! But instead, Ima Bean starts a regular flood of mishap that includes an escaped mule, a torn clothesline, a broken bicycle, and flying vegetables. Ima Bean has really goofed, and now she'll have to pack her bags and leave Brother Chili Bean, Sister Pinta Bean, and her whole family forever. Or will she?
International Reading Association/Children's Book Council Children's Choice Winner, 1994.
State children's choice award nominations in Kentucky, Utah, Nevada, and Indiana. Oregon Book Award nominee.
Book-of-the-Month Club selection.
"Comical, reassuring"  -Kirkus
"Rollicking tall tale . . . marvelous turns of phrase . . . vigorous illustrations . . . a winner, and a great read-aloud choice."  –School Library Journal
"Expressive, humorous language . . . distinctive choice . . . reassuring ending will make it popular with young listeners."  -Booklist
THE AUTHOR RECALLS:
When my daughter Kelsey was only three years old she decided one day to go into the kitchen and make bread for the family, by herself. What she made instead of bread was a HUGE mess. When I discovered what she had done, she was worried that I would be upset. Actually, I thought she looked pretty funny dusted in baking flour, standing in a mucky puddle of spilled milk, broken egg yokes, and stringy dough. And besides, her heart had been in the right place. She'd just been trying to help.
Later, after the mess was cleaned up, I jotted down in my notebook what had happened. Into my desk drawer (where I keep story ideas) the note went. A couple of years later I was looking for a new story idea and pulled out that note. I remembered what had happened and made an attempt at writing a tale of a girl who tries to bake bread for her family. But it was only after many rewrites that the story evolved into the book it is now, of a girl just trying to help get her grandpa's fishing pole back to him.